You may have previously seen our article going over the characters in which we were predicting for a hypothetical Super Smash Bros. port for the upcoming Nintendo Switch. To follow that, we will be looking at stage predictions in this article.
Stages are in a way, much harder to accurately predict so we went about choosing the 'winners' using slightly different methods than for our character-based prediction.
Firstly, we took into account the characters we had settled on in the previous entry. We then decided to resolve ourselves to 10 stages in total. Five for returning stages, which includes any stages from a previous Smash Bros. game excluding the Wii U version, and also five for new stages.
Following that, we opted to look at stages by franchise. We felt that because some games had more to draw material from than other games, it leveled the playing field. Thus giving us more credible results.
Returning Stages:
1. Magicant (Earthbound/Mother).
Magicant was featured in the 3DS version of Super Smash Bros. It quickly became one of the system's standout new stages and with a total of 7 out of 11 votes, it was a clear favorite to return amongst the team.

2. Summit (Ice Climbers).
The Ice Climbers were one of the seven characters that we predicted to return in our previous article. They ranked second overall in our tally, which meant that a stage was a no-brainer. All 6 of us who voted on an Ice Climber stage felt that Summit was the only choice. None of the other Ice Climber stages got a single vote!
3. Brinstar (Metroid)
Returning Metroid stages got a total of 6 votes split between 2 different stages. They are; Frigate Oprheon and Brinstar, with Brinstar being the favorite with 4 votes.

4. Gerudo Valley (The Legend of Zelda)
Zelda was hardly starved of new and returning stages in the latest Smash Bros. Even still, can there ever be too many Zelda stages? Three veteran stages in total received votes, however, Ocarina of Time's Gerudo Valley beat out Spirit Tracks and Great Bay by 3 votes to 2 and 1 respectively. Totaling 6.

5. Corneria (Star Fox)
Like The Ice Climbers before, Wolf was a character that also made his return in our prediction. Corneria, a Smash favorite has appeared in 3 previous Smash Bros. games. It secured 4 votes.

New Stages:
1. Dr. Mario or Bowser's Castle (Super Mario Bros.)
A total of 13 votes were cast across 5 stages that hail from the Mario universe. Which is understandable as 2 of the 7 characters we predicted were technically Mario characters (if you include Geno). Dr. Mario and Bowser's castle tied with 4 votes each. It's worth noting that a Dr. Mario stage was possibly previously planned for Super Smash Bros. for Wii U.

2. Melemele Island (Pokemon)
Pokemon Sun and Pokemon Moon's Melemele Island is the sole stage with the most votes with 9. With Decidueye making our prediction it made Melemele Island one of our safest picks!

3. Inkopolis Plaza (Splatoon)
Splatoon has a wide array of environments to select from, three of them received an 8 split of votes with the Inkopolis Plaza coming out on top with 5 in total. The Inklings were another of our predictions for characters.

4. Breath of The Wild (The Legend of Zelda)
You can't keep Zelda off this list it seems. With Breath of The Wild vastly approaching and considering the huge amount of attention and acclaim it has already garnered, a stage to coincide with Breath of The Wild was something our team deemed likely to happen.

5. Gangplank Galleon (Donkey Kong)
That krafty Kremling; King K. Rool, who may finally get his due if our prediction holds up could be accompanied by his signature stage. Gangplank Galleon. Though it just got 3 votes in total, it placed 5th overall on our list of new stages.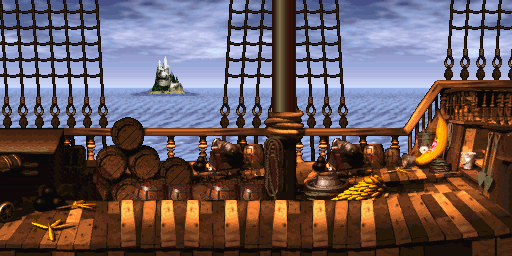 Which new stages do you think could be in an enhanced port of Super Smash Bros. for Nintendo Switch? Let us know in the comments!